The Toulouse – Saint Louis Rally is back!
After a two-year interruption due to the Covid-19, the Toulouse – Saint Louis air rally is back in service. Created in 1983, this event pays tribute to the pioneers of the "Compagnie Générale Aéropostale" who left from Toulouse - Montaudran to deliver mail in the Southern Hemisphere, retracing the route taken by the illustrious Antoine de Saint-Exupéry.
___________________________________________________________________________________________________________________________

The traditional Toulouse-Saint Louis rally, organized with the support of the Antoine de Saint Exupéry Youth Foundation, will take place from 17 to 30 September 2022 for its 38th edition.
On the morning of Saturday 17 September 2022, 22 crews will take off from the Toulouse-Lasbordes aerodrome, heading for Saint Louis, in Senegal.
For a fortnight, follow the epic journey of two pilots who will fly in the footsteps of the pioneers of l'Aéropostale, and the father of the "Little Prince". These two pilots are part of a crew that we sponsor with Asobo.
Our pilots are used to taking medicines and medical equipment with them, which will be distributed during the various stages of the rally.
"We have already prepared the boxes! Some for the dispensary in Tarfaya (Cape Juby) just opposite the Canaries, and others for the hospital in Saint Louis."
Ace team: presentation of the Asobo Autour du Monde team
During this journey of several days, our two pilots Gérard Democrate and Patrick Laumond will pass through Spain. Then they will fly along the Moroccan coast, following exactly the same route as the aviators of the 1930s, before arriving at their final destination: Saint-Louis.
"Doing this Rally is for us to go back to our childhood and relive with our eyes what we read and imagined, when we were young, about Mermoz, St Exupéry, Guillaumet…" 

Gérard Démocrate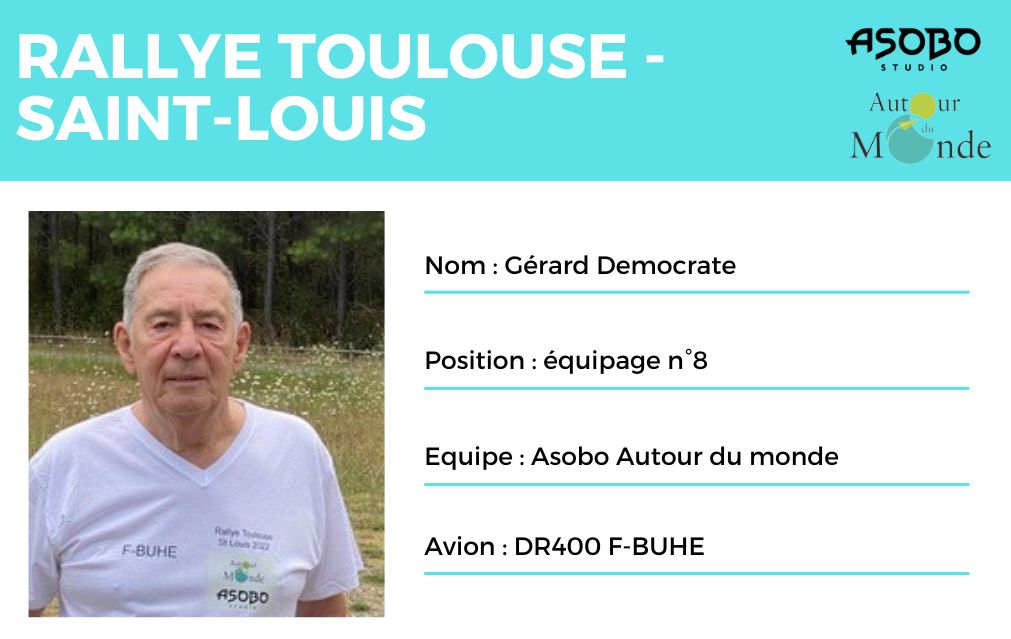 "As a young child and teenager, I was always attracted to aviation. Secretly, I dreamed of being an airline pilot, or even a fighter pilot! Unfortunately, my social destiny was not that. 
So I started to study other things…

My studies, then my career, as well as the lack of time and means did not allow me to accomplish my dream. Yet, secretly, I dreamed of it!
As a teenager, I used to build models. The first was an old Caudron… the second a Mirage III.

I had to wait until the end of my professional activities to join a club, where I met Patrick Laumond.
Patrick became more than an instructor: the same age or almost, the same intellectual approach, etc.

It was he who put me on the Rally track. I told him straight away that I was a volunteer!
Our first idea was to take a plane from our club. This was not possible, so we decided to use my own plane with an extra tank."

Patrick Laumond 

"I started in aeronautics at the age of 16: BESA (ex BIA) and Gliding. Then Private Pilot Aircraft and Glider.

After the Baccalaureate, I prepared myself for the theoretical exams of Professional Pilot 1st Class and Airline Pilot by attending preparatory classes and by self-taught.
I then entered ENAC Toulouse, but only stayed there for 15 days, because I learned that I had passed the exams I had taken previously.

I was a reserve officer before being posted to Cognac as a Ground Instructor in Navigation and Air Operations for flight instructors to take the Patrol Leader exam (military PP1).
Then I was a reserve military pilot officer. I was a co-pilot for 4 years, before becoming a captain, within AIR ROUERGUE/TAT
I later joined AIR INTER and AIR FRANCE as a captain and instructor. I finished my career as a captain on long-haul AIR FRANCE aircraft on the A340.

What interests me in the Toulouse-Saint-Louis rally is the discovery and adventure aspect of this era that I would have liked to experience as a pilot.

One of my most beautiful flights was to cross the Atlantic on a DHC6 in 1979: France-Guadeloupe via the North Atlantic. This flight was made with dead reckoning, so-called heading and watch navigation (I had no other means of navigation at the time: inertial unit, Omega, or Loran), with a gyroscopic course keeper in orthodromic trajectory with loxodromic facets of 20 mn flight and with additional tanks in the cabin and without automatic pilot (Costes and Bellonte style).
The preparation and the execution of this convoy had been a beautiful consecration of my studies of airline pilot."
When history and adventure get involved…
The planes participating in the rally are all passenger planes, most of which can only carry between two and four passengers. These aircraft, which have a speed of no more than 250 km/h, will take a week to reach Saint-Louis. The route will be divided into several stages, allowing the crews to spend their nights on land.
For 39 years, this rally has paid tribute to the airmail and its great pioneers: Saint-Exupéry, Mermoz, Guillaumet, Latécoère and many others!
With a route of over 10,000 km, this is the largest regular air rally in the world.
This rally is not a race as such, it is not about who will arrive the fastest. The participants are looking for an adventure that allows them to share and communicate their passion, while paying tribute to the aviators of the past.